Google it! Could new mapping tool solve rural addressing problem?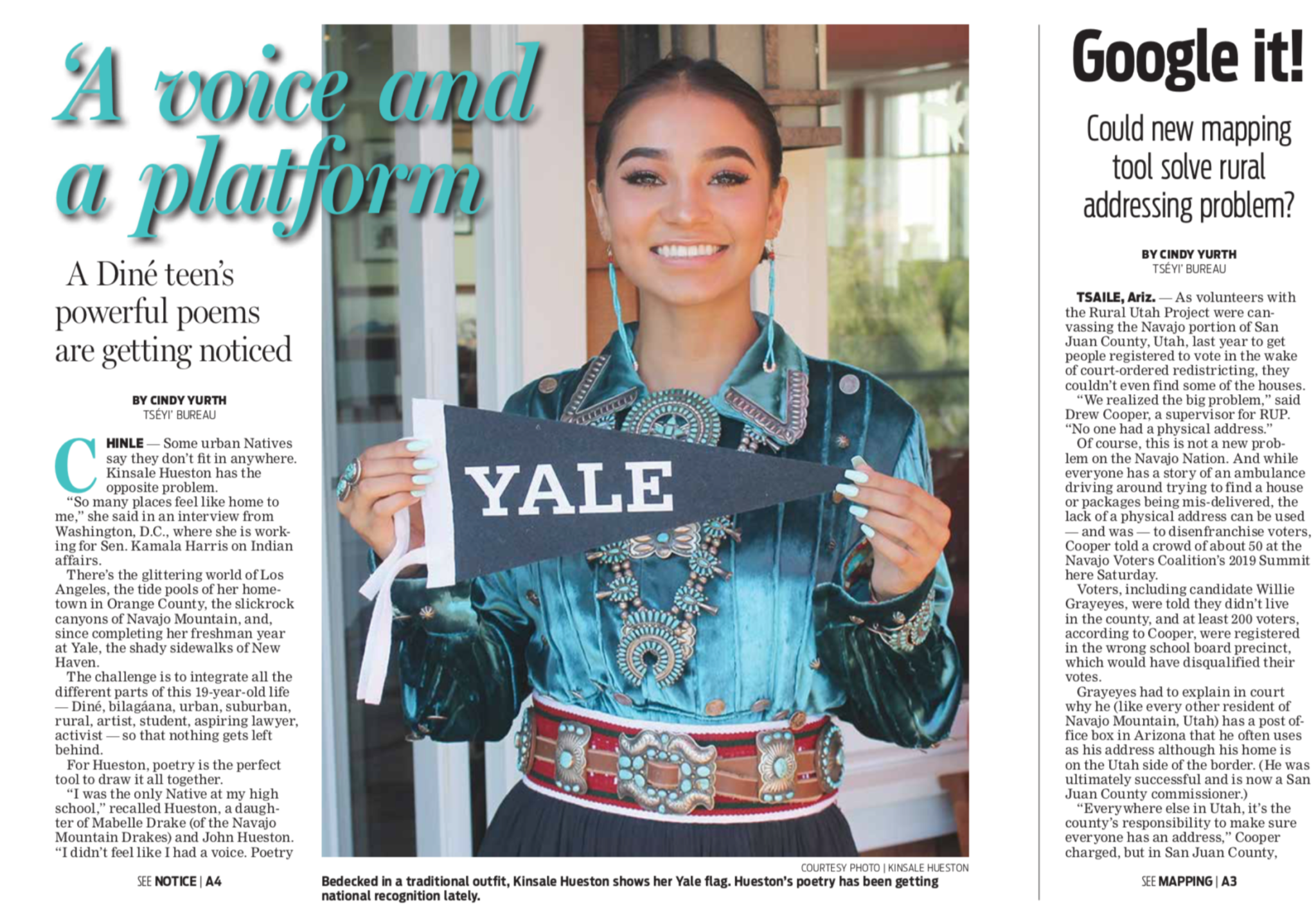 Read the original article in the Navajo Times.
TSAILE, Ariz. — As volunteers with the Rural Utah Project were canvassing the Navajo portion of San Juan County, Utah, last year to get people registered to vote in the wake of court-ordered redistricting, they couldn't even find some of the houses.
"We realized the big problem," said Drew Cooper, a supervisor for RUP. "No one had a physical address."
Of course, this is not a new problem on the Navajo Nation. And while everyone has a story of an ambulance driving around trying to find a house or packages being mis-delivered, the lack of a physical address can be used — and was — to disenfranchise voters, Cooper told a crowd of about 50 at the Navajo Voters Coalition's 2019 Summit here Saturday.
Voters, including candidate Willie Grayeyes, were told they didn't live in the county, and at least 200 voters, according to Cooper, were registered in the wrong school board precinct, which would have disqualified their votes.
Grayeyes had to explain in court why he (like every other resident of Navajo Mountain, Utah) has a post office box in Arizona that he often uses as his address although his home is on the Utah side of the border. (He was ultimately successful and is now a San Juan County commissioner.)
"Everywhere else in Utah, it's the county's responsibility to make sure everyone has an address," Cooper charged, but in San Juan County, where the off-reservation white minority had held power for decades and was in danger of losing it, "the county had no interest in assigning addresses to Navajos on the reservation."
RUP realized that if Navajos were going to vote in numbers large enough to sway the election in their favor, they needed addresses. Fast.
A recently rolled-out technology from Google Maps provided the answer. Google Plus Codes are a grid-based way of locating a structure (or anything on the face of the earth, for that matter).
Navajo Nation Rural Addressing Coordinator M.C. Baldwin explained it to the crowd as looking at the earth from above through a sheep-camp grill, and identifying structures based on which square of the grill they fell in. "If you're familiar with latitude and longitude lines, it's like that, only more specific," Cooper explained.
A plus code consists of a "shortcode" of four letters and numbers followed by two characters that represent the town or city. For example, the plus code for the Navajo Times office in Window Rock is MW7V+8H. You can easily find your plus code from your computer or cell phone in the Google Maps app.
"Everywhere on earth already has a plus code," Cooper said.
The code can specify a location down to a three-meter square, so if there are different buildings on your home-site lease, each one of them has its own plus code — and anyone can find the building by enter- ing the code into the "location" bar in Google Maps.
Using plus codes "allows the county to sort voters into districts immediately," Cooper claimed.
It also allows for privacy in that "plus codes are used to identify a location rather than a person," he added.
RUP has already identified the plus codes of the 4,050 homes in the Navajo portion of San Juan County, and is in the process of printing signs with the codes on them that people can display on their homes. While this is not strictly necessary, RUP has found it helps the elderly Diné to grasp the project.
"For the elder folks, address- ing is a pie-in-the-sky idea," Cooper explained. "That's why it's so important to print and distribute signs."
He cautioned that the plus codes are a temporary fix until the Navajo Nation Rural Addressing Project can establish an actual address for each home. He also stressed that the computer-generated numbers do not replace traditional Navajo place names, which are important to Diné identity. To balance this out, RUP is also working with Google to make Google Maps recognize Diné bizaad names.
Baldwin said the Rural Addressing Project welcomed the plus code solution, and added it could be applied all over the reservation. Anyone who doesn't have a computer or smart phone and would like to know their plus code may stop in at his office in the Department of Community Development (Admin 2) for assistance, he added.