Native Americans Win Elections in Utah After Voicing Support for Bears Ears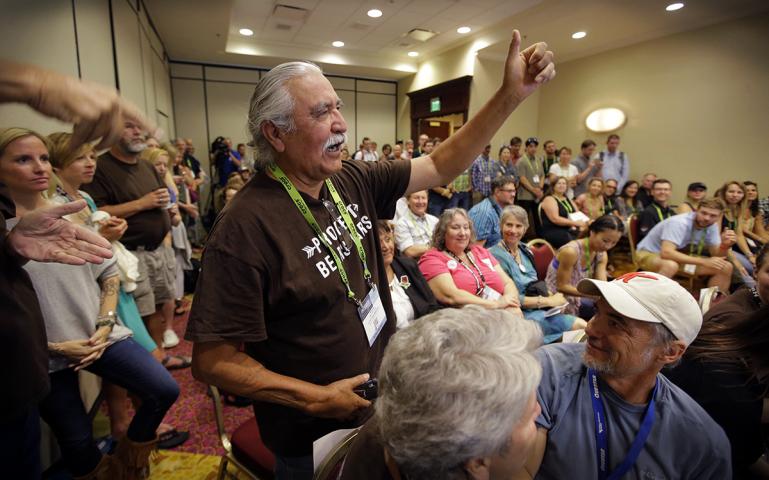 Read the original article at Sierra Magazine.
On December 4, 2017, President Donald Trump jetted into Salt Lake City to sign two executive orders that would amount to the largest rollback of federal lands protections in U.S. history. "Under my administration," Trump told a crowd of supporters, "we will advance…a truly representative process, one that listens to the local communities that knows [sic] the land the best and that cherishes the land the most." Then, with the stroke of his pen, he reduced a pair of national monuments in southern Utah—Bears Ears and Grand Staircase–Escalante—by nearly 2 million acres.
At the time, nearly every elected official in Utah—from the county level to the state government to U.S. representatives—supported Trump's order, and they often cited local opposition as an argument for the cuts. All three of the commissioners in San Juan County, where Bears Ears National Monument is located, were in attendance at the speech. Rebecca Benally, the sole Navajo and sole Democrat on the commission, opened for Trump at the event. Afterward, the president signed Republican commissioner Bruce Adams's "Make San Juan County Great Again" cowboy hat. To many spectators, it appeared as if Trump was indeed honoring local wishes.
The notion that locals in southern Utah unanimously supported dismantling Bears Ears National Monument was dealt a serious blow in the midterm elections last week. For the first time in the history of San Juan County—which overlaps with portions of the Navajo Nation and Ute Mountain Ute Reservation—voters appear to have elected two Navajo representatives to the three-member county commission. Benally lost the Democratic primary to pro–Bears Ears candidate Kenneth Maryboy over the summer, and Maryboy went on to win in a landslide in the general election. Meanwhile, Willie Grayeyes, another outspoken supporter of the monument, earned 53 percent of the vote in his district, according to the most recent election results.
"Logic would show that this should be a turning point," said James Courage Singer, the 2018 Democratic nominee for the congressional district where Bears Ears is located and the first Navajo to run for Congress in Utah. "Not only do the Navajo [tribal government] and other tribes support Bears Ears, but now we'll also have the locals in government saying, 'Yes there is some opposition, but overall our commission is in favor of Bears Ears as a monument.'"
Grayeyes and Maryboy are both board members of Utah Diné Bikéyah, a grassroots Navajo conservation organization formed in 2012 to advocate for the archaeologically rich Bears Ears area. President Obama created a 1.35-million-acre monument in late 2016 at the urging of Utah Diné Bikéyah and the Bears Ears Inter-Tribal Coalition, which is made up of five tribes with cultural ties to the Bears Ears landscape. Those tribes—Hopi, Zuni, Navajo, Ute Mountain Ute, and Ute Indian—are currently suing the Trump administration over its cuts to Bears Ears.
While the victories of Maryboy and Grayeyes suggest broad support for the national monument, their election successes would have been unlikely without three decades of litigation meant to insure the voting rights of Native Americans in San Juan County. In the 1980s, a suit brought by the Justice Department led the county to abandon its at-large system for electing commissioners and to split the county into districts. Mark Maryboy, Kenneth's brother, became the county's first Navajo commissioner in 1986. But white commissioners maintained the majority in the following decades despite the fact that the 15,000-person county is over 50 percent Native American. In 2012, the Navajo Nation brought a new lawsuit, arguing that San Juan County was in violation of the Voting Rights Act for racially gerrymandering the districts. A federal judge agreed, and the decision led to two of the commission districts being redrawn with Native American majorities last year.
But even after the ruling, voting rights advocates faced another series of setbacks. Thousands of voters on the Navajo Nation, who live in homes scattered across the vast redrock desert of southeast Utah and often lack street addresses, had errors in their voter registration forms.
"It was the county's responsibility [to correct the errors]," Singer said, "but if we left it to them, it wouldn't have gone through in a timely fashion."
Nonprofit organizations and the Navajo Nation Human Rights Commission stepped in. Tara Benally of the Rural Utah Project helped coordinate a team of colleagues and volunteers who went door-to-door to register voters under their correct and up-to-date addresses and locations. "We had to cover at least a 100-mile radius in San Juan County," she said, adding that despite rough roads and other challenges, the group contacted upward of 1,600 residents on the Navajo Nation.
During that same period, Grayeyes was forced to defend his eligibility to run in the election at all. In May, Wendy Black, a white candidate who lost the Republican primary for county commissioner in Grayeyes's district, sent an email to County Clerk John David Nielson, stating that Grayeyes did not live in Utah and should be removed from the ballot. Grayeyes owns a home and has been registered to vote for decades in a remote part of the Navajo Nation south of Lake Powell, but Black claimed Grayeyes had moved across the Arizona line. Nielson allegedly backdated a document to meet a deadline that had already passed in order to challenge Grayeyes's candidacy. A sheriff's deputy interrogated Grayeyes's family members, and Nielson subsequently removed Grayeyes from the ballot. Grayeyes sued, and in August a federal judge ruled that Nielson did not follow proper procedure. Grayeyes's name was reinstated, and he went on to win his race—900 votes to 805 at last count. (The deadline for the final vote count is November 20.)
Grayeyes said he's feeling good about his victory, but he told Sierra, "I'm not going to jump off the cliff and say, 'hooray,' just yet. There's a lot to work on, and I'm pretty sure I'll be confronted with a lot of opposition at first. Over time, I think it will mellow out."
Grayeyes and Maryboy will join incumbent Bruce Adams, who was reelected in the majority white district, on the county commission next year. The new commission could face a tough road ahead. The outgoing commission spent more than $2 million on legal fees during the last three years fighting the voting rights lawsuit and the designation of Bears Ears, and waging a campaign to reopen an ATV route that was closed to protect archaeological sites. The county could be asked to pay an additional $3 million for ongoing litigation related to the voting rights case, which county lawyers are still appealing. Earlier this year, Adams said he was "absolutely concerned" the county's general fund could be depleted in 2019, meaning it could soon face bankruptcy.
Tara Benally fears the incoming commissioners will be blamed for the financial situation created by the outgoing commission and hopes there will be more Native American involvement in county politics moving forward. "We really need to show our support [to the new commission]," she said. "We've been put at the back for so long. But I think we'll find a way, especially if we sit down and work together with different communities, as it should have been from the beginning."
Grayeyes said his priority in office will be to help those on and off the Navajo Nation—and those on both sides of the Bears Ears debate—find common ground. "The challenge is to sway them to be part of a team rather than in opposite, opposing parties," he said.