The Rural Utah Project is hiring an Operations Manager!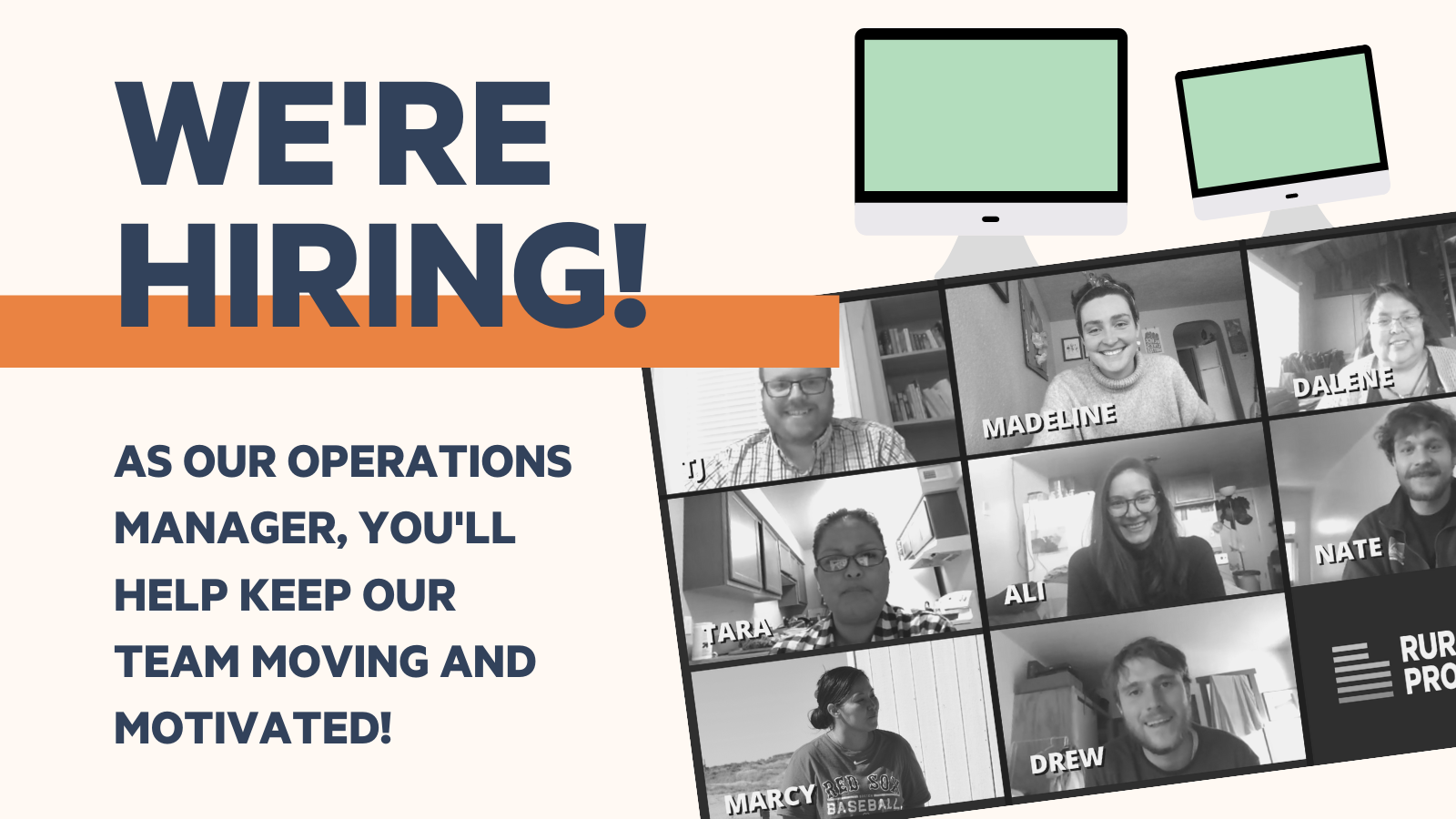 UPDATE: This position has been filled. Thank you for your interest, we will continue to post opportunities to join our team as they become available!
Deadline to Apply: Friday, June 4th
Description:
The Rural Utah Project is seeking an Operations Manager to help keep our administrative programs up to a standard that keeps our staff moving and motivated.
The ideal candidate will be passionate about protecting rural Utah's landscapes and empowering rural residents to become a part of the political process, and excited to lend their skills towards advancing our work. The ideal candidate will care deeply about systems that allow organizations to grow and thrive, and will be dedicated to helping the Rural Utah Project become a more resilient, thorough, and just organization.
This position is a full-time, salaried position, and benefits include health, vision, and dental insurance, retirement benefits, paid sick leave and paid vacation time.
Who We Are:
The Rural Utah Project is a non-partisan 501(c)(4) non-profit organization dedicated to increasing civic engagement in rural communities across Utah. We're a young organization and are motivated to build a powerful movement with our neighbors that fights for a more just and sustainable future for rural Utah's communities and landscapes. We seek to expand civic participation by breaking down barriers to the ballot box and providing organizing tools to local communities. We've grown quickly over recent years, and we're expanding our operations team to help match the growth of our programs.
What You'll Do:
The Operations Manager will oversee the Rural Utah Project's administrative and human resources departments. They will build and manage systems that ensure that our organization is running smoothly, and help create space for our employees to thrive. They will oversee the processes for hiring and terminating employees, and create secure spaces for the handling of internal complaints amongst staff. They will work with the Executive Director to help manage bookkeeping at the organization, including: payroll, employee records, and managerial duties.
The Operations Manager reports to the Executive Director, and works with all our team members to ensure our work is smooth and successful, including:
Working with senior leadership and the Executive Director to create new administrative systems for a young organization
Arrange and maintain organizational insurance policies (employee health, dental, and vision insurance, auto insurance, general liability insurance, directors' insurance, workers compensation, and others)
Helping to create a hiring and recruitment process that upholds the organization's commitment to racial justice and equity
Working with the Development Director and the Executive Director in maintaining the organization's databases, such as EveryAction
Assisting organization leadership in creating safe and secure systems of accountability for the organization's human resource policy
Maintaining the administrative records of the organization, including: keeping track of account balances, managing petty cash, paying vendors and contractors, and filing solicitation permits
Working with Executive Leadership to verify work records and time sheets to process bimonthly payroll, reimbursements, and employee benefits (such as retirement accounts) for staff
Sharing responsibility in ensuring a vibrant and productive office environment and acting as office manager to keep office and field materials supplied, including staff needs such as business cards, laptops and other computer equipment, and banners, flyers, and other printed materials
Making travel arrangements for board members for tri-annual board meetings and other events
Who You Are & Keys to Success:
To be successful in this role, you will excel in:
Systems Building: As a young organization, much of the work to create the Rural Utah Project's administrative and human resource systems remains to be built. We are hopeful that this role will take the lead in forging a new future for our organization.
Organization: This role requires exceptional organizational ability in order to manage the administrative lift of the organization including budgets, payments, and expenditures.
Facilitating Safe Environments: As a part of creating the Rural Utah Project's human resources department, facilitating a confidential and secure space for staff is fundamental to the role.
Proactive: As a small organization, we are a team of self-starters. This role will require creativity and a proactive approach to getting our systems off of the ground.
Learning Software: Ideally, this candidate will be familiar with or eager to learn word processing systems, Quickbooks, EveryAction, and other software related to managing the organization's administrative priorities.
What Else You Should Know:
The Rural Utah Project is invested in building the skill set required for a candidate who is eager to learn in this role. Candidates without prior experience in operations and administrative work are encouraged to apply.
Rural Utah Project is an equal opportunity employer and we value having staff who come from communities where we organize. We especially encourage people who are Indigenous, people of color, people from rural communities, LGBQ people, transgender and gender non-conforming people, and people with disabilities to apply.
This position requires semi-frequent on-site work at the Rural Utah Project's Salt Lake City office, and remote work can be accommodated. The salary for this position ranges from $45,000 – $50,000, with exact salary depending on experience. We also offer excellent benefits such as dental, vision, and health insurance and a retirement account contribution.
How to Apply: Please submit applications (including resume and cover letter) to the Rural Utah Project's Executive Director, TJ Ellerbeck at [email protected]. Applications will be reviewed on a rolling basis.