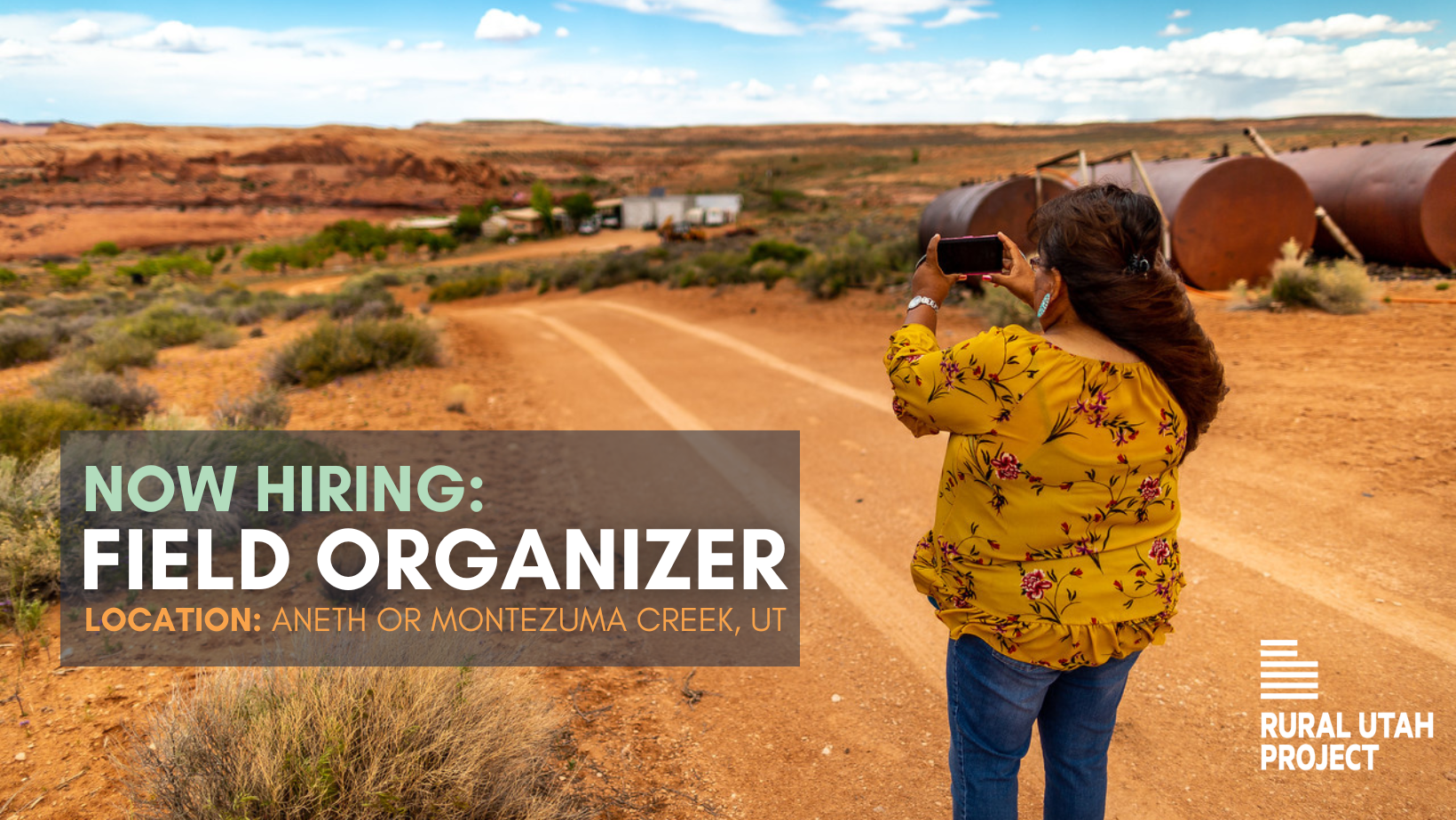 Application deadline: CLOSED 
Start Date: CLOSED
Location: Aneth or Montezuma Creek, UT 
The Rural Utah Project (RUP) seeks a field organizer to work with on our plus code and voter registration program in southern San Juan County, UT. RUP hopes to complete its addressing program by Sept. 2022 by distributing signs displaying plus codes to each home across the Utah segment of the Navajo Nation that doesn't currently have an assigned physical street address. Plus Codes are short codes that work like addresses in Google Maps and other services. The Field Organizer is a full-time, temporary staff position in the Aneth/Montezuma Creek area to assist with the sign distribution process.
Who We Are:
The Rural Utah Project is a non-partisan 501(c)(4) non-profit organization dedicated to increasing civic engagement in rural communities across Utah. We're a young organization and are motivated to build a powerful movement with our neighbors that fights for a more just and sustainable future for rural Utah's communities and landscapes. We seek to expand civic participation by breaking down barriers to the ballot box and providing organizing tools to local communities.
What you'll do:
– Deliver and install address boards throughout the community
– Educate community members using materials and videos on Plus Codes and the importance of plus codes
– Register voters at newly assigned Plus Codes
– Other tasks associated
Qualifications
Must-haves:
– Committed to community service and believes in the power of civic and community engagement
– Strong interpersonal and communication skills, the ability to meet tight and competing deadlines
– Willingness to do manual, outdoor labor in all weather conditions, ability to use hand tools (hammer, drill, post drivers)
– Ability to work irregular hours, including occasional evenings and weekends
– Must live in or near and have familiarity with the communities of Montezuma Creek or Aneth, UT
– Must have access to reliable transportation to and from work job sites and must possess a valid driver's license, and be able to pass a criminal background check
Bonuses:
– Preference is given to applicants with Navajo language proficiency
– Familiarity using smartphone applications and technologies like Google Drive and Microsoft Office Products is a plus
State Date: July 25th, 2022 End Date: September 31st, 2022, with the possibility of an extension
Compensation:
$19/hour, 40 hours per week. Work-related travel reimbursement of $0.625 per mile.
Application Deadline: Wednesday, July 20th
Submit resume and letter of interest subject line 'Field Organizer' to Dalene Redhorse <[email protected]> or drop off an application in person at Rural Utah Project's Bluff Office at 300 E Main Street, Bluff UT (7CMV+35 Bluff, Utah).