Hiring: Communications Director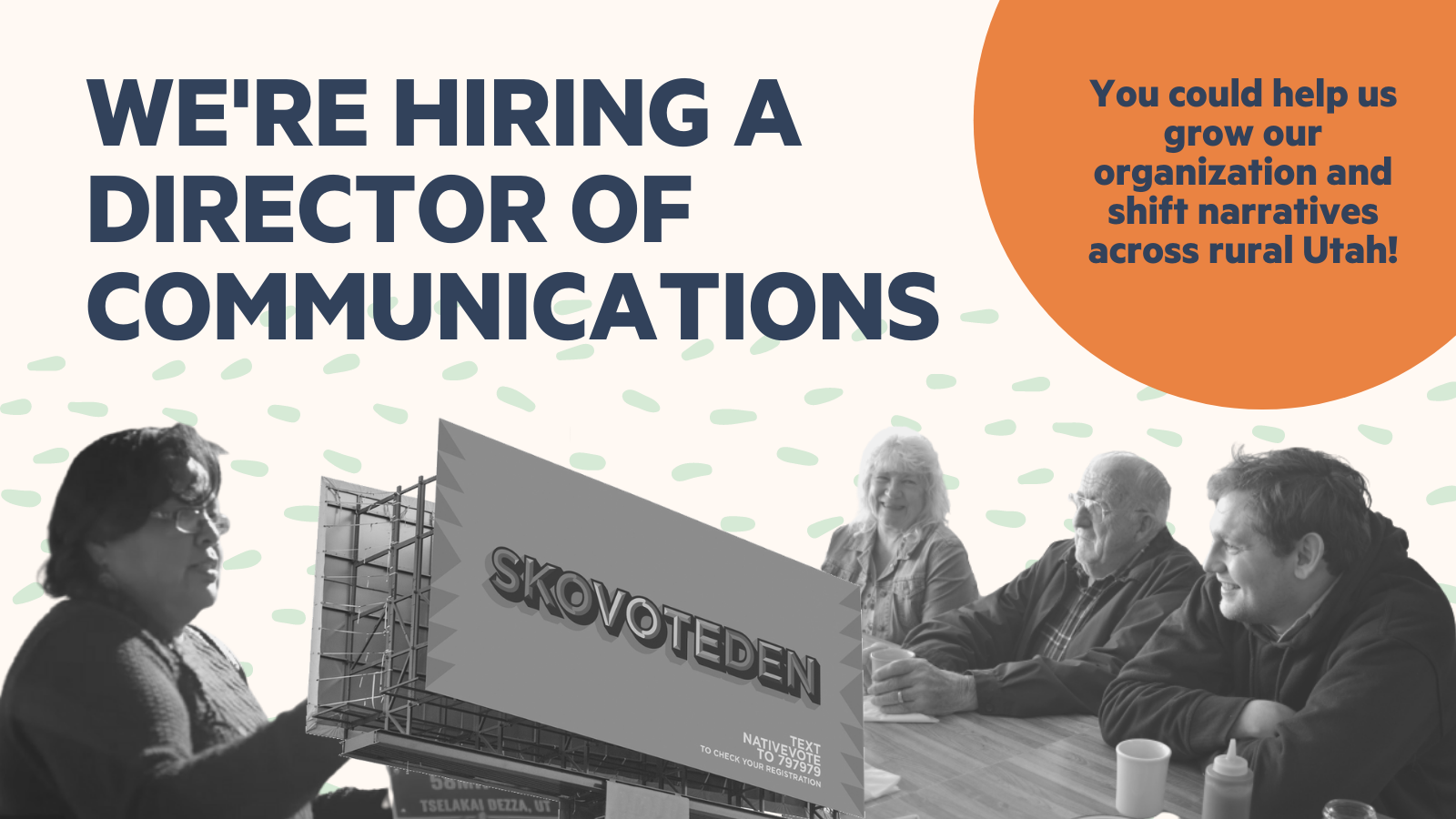 Position: Communications Director
Start Date: When filled
Application Closing Date: Friday, January 6 2023
Location: Utah
Description:
The Rural Utah Project is seeking a Communications Director to grow our digital organizing programs and build the forward-facing identity of the Rural Utah Project's work.
The ideal candidate will be passionate about protecting rural Utah's landscapes, empowering rural residents to become a part of the political process, and excited to lend their skills towards advancing our work. The ideal candidate will be passionate about narrative strategy, digital organizing, online fundraising, and creating strong press relationships.
This position is a full-time, salaried position, and benefits include health, vision, and dental insurance, retirement benefits, paid sick leave and paid vacation time. This position can work from RUP's offices in Salt Lake City, Moab, Bluff, or remotely. This position must be based in Utah and will require travel 20-40% of the time.
Who We Are:
The Rural Utah Project is a non-partisan 501(c)(4) non-profit organization dedicated to increasing civic engagement in rural communities across Utah. We're a young organization and are motivated to build a powerful movement with our neighbors that fights for a more just and sustainable future for rural Utah's communities and landscapes. We seek to expand civic participation and citizen activism by breaking down barriers to the ballot box and providing organizing tools to local communities.
What You'll Do:
The communications program of the Rural Utah Project is crucial to the organization's programs, fundraising effort, and growth. The Communications Director will oversee RUP's forward-facing presence as an organization. This includes not only digital writing, but all aspects that involve the organization's communication with donors, partners, and voters.
This role will be responsible for continuing RUP's digital organizing and storytelling efforts, which are critical to the narrative strategy goals of the organization. This will require frequent work with RUP's field team to collect and create content and learn how to best communicate to our audiences.
The Communications Director will work to facilitate and manage the creation, design, and execution of any materials, written and creative, that RUP creates and circulates. They will also manage all of RUP's online and digital issue advocacy work around issues including public lands, conservation, democracy and voting access, and others, as well as communications about endorsed political candidates to RUP's supporters or to voters. This position will work with the Development Director to expand the organization's online fundraising presence. Additionally, the Communications Director will work to expand RUP's forward-facing presence through building relationships with ally organizations, reporters, and interested supporters on and offline.
Responsibilities Include:
Create outreach goals and develop marketing strategy for the Rural Utah Project, including: Partnerships, press hits, digital metrics, media relations, website, branding and speaking engagements
Create an outreach campaign, and long-term outreach strategic goals, to build supporters and donors on and offline
Manage RUP's digital organizing and storytelling programs
Manage, write, and design all forward-facing materials for RUP's programs, including: Mail pieces, event flyers, emails and digital content, press communications, photography and videography, and field materials
Manage and facilitate all communication processes that involve RUP's messaging, story, brand, and public presence
In coordination with the field team, manage public communication around RUP's policy goals and encourage RUP's social media and email audiences to become citizen activists on important issues
In coordination with the field team, manage public communication about RUP's endorsed candidates and work on mail, digital, radio, and other communications projects to communicate with voters about endorsed candidates
Manage incoming communication involving RUP's engagement in the press.
Work with the Executive Director and related staff to create long-term messaging that reflects the organization's current priorities and long-term goals
Build meaningful relationships with communications and outreach staff at allied organizations
Create an annual report on RUP's work and mission, as well as any additional auxiliary promotional materials to advertise RUP's work
Meet digital development goals as set by the Development Director
Manage all digital communications and work with the Development Director to co-create all donor digital and direct mail communication. Create engaging development materials
Travel as necessary to RUP's field locations to capture content of RUP's programs
Work with field staff on developing messaging and talking points for regional projects
Manage digital and communications budget
Who You Are & Keys to Success:
To be successful in this role, you will excel in:
Narrative Strategy: The Rural Utah Project is in the business of shifting narrative in the areas where we organize. We are committed to the pillars of ethical storytelling, and creating communications infrastructure for rural communities first and foremost. The ideal candidate will be committed to the importance of storytelling, and how it needs to be radically transformed for the future of the political movement.
Creative Writing: RUP's communications program is built on creativity, trust, and transparency. The ideal candidate will be an experienced and capable writer, who is comfortable creating content and copy that will further the organization's voice and identity.
Digital Organizing: The communications program is engaged in running ambitious digital organizing programs to get out the vote and build activist community leaders. The ideal candidate will be familiar with, or eager to learn about, the future of digital organizing in campaign structures.
Public Policy: Some of RUP's work focuses on affecting public policy around conservation and public lands, democracy and voting access, and occasionally niche local issues, which requires us to communicate intelligently about these issues. An ideal Communications Director candidate will be familiar with, or eager to learn about, public policy processes in Utah and key components of these policy issues.
Elections: The Rural Utah Project endorses and supports candidates running for office in local elections around Utah. The Communications Director will help design communications strategies for how to share these endorsements with our supporters, and will work on coordinated and independent expenditure projects, occasionally with tight turnaround times, to support political candidates.
Teamwork: The communications program interfaces with every department in the organization. This includes field, development, and organizational leadership. This role will require excellent collaboration skills to work across a diverse range of program needs.
Proactive: As a small organization, we are a team of self-starters. This role will require creativity and a proactive approach to managing our programs.
Learning Software: Ideally, this candidate will be familiar with or eager to learn systems that manage RUP's digital infrastructure, including EveryAction, MeltWater, Canva, and WordPress.
What Else You Should Know:
Rural Utah Project is an equal opportunity employer and we value having staff who come from communities where we organize. We especially encourage people who are Indigenous, people of color, people from rural communities, LGBQ people, transgender and gender non-conforming people, and people with disabilities to apply.
This position requires 20-40% travel to regions where the Rural Utah Project organizes and operates, and remote work can be accommodated. All Rural Utah Project staff members receive a professional development stipend that can be used to learn or improve skills required for this position. The salary for this position ranges from $55,000 – $65,000, with exact salary depending on experience. We also offer excellent benefits such as dental, vision, health insurance, and a 401(k) retirement account contribution.
How to Apply: Please submit applications (including resume, cover letter, and a writing sample) to the Rural Utah Project's Executive Director, TJ Ellerbeck at [email protected]. Applications will be reviewed on a rolling basis.